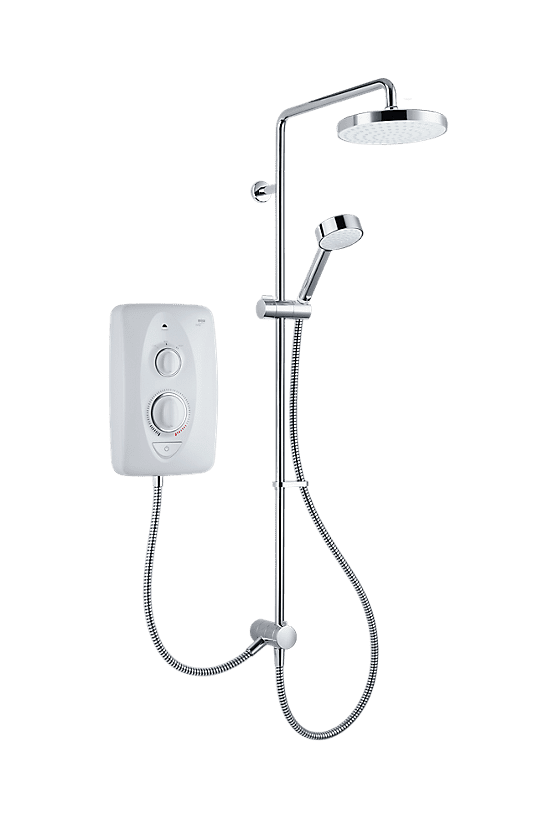 Mira Jump Dual Multi-Fit Electric Shower
The Mira Jump was designed as a way to upgrade your existing electric shower as easily as possible. Flexible fittings such as adjustable slide bar make installing the Jump practical without compromising on style or functionality.
As part of the Mira Jump family, the Jump Dual gives you an extra touch of indulgence with a 200mm overhead deluge. Perfect for when you want to relax and unwind.
Best Features:
Dual Shower-heads
Conveniently switch between shower handset and luxurious 200mm deluge head for a more indulgent shower experience.
Easy to Replace Current Electric Showers
Multiple cable and water entry points make this the ideal shower for replacing an existing electric shower.
Ultimate Flexibility
Adjustable arm allows you to position the deluge overhead wherever it fits best in your bathroom.
Save Water
Eco-setting means you can save both power and water for showering that's kinder to the planet.
Scale Down on Limescale
Our Mira Clearscale™ technology reduces limescale by up to 50% to keep your shower working better and for longer.
Why Choose the Mira Jump Dual?
The Jump Dual, has two options 9.5kW and 10.8kW both recognised as energy efficient options that can be cost-effective to run. Preset your desired temperature so every shower remains consistent and custom to your liking. Not to mention, our all time favourite feature, the dual shower-head. Choose between 90mm handheld shower-head or for a more luxurious showering experience the 200mm overhead deluge with four spray patterns; Rain, Rain+, Burst and Storm.
The Mira Jump is a great addition to any home its white front and chrome fixtures will make it easy to keep clean and adapt to many bathroom styles. The rub-clean nozzle and Mira Clear-scale technology help reduce the build-up of limescale which makes it easy to maintain and last-longer.
Swap your existing shower with ease, no trace of your old shower left behind as if it's the Jump has been there the entire time.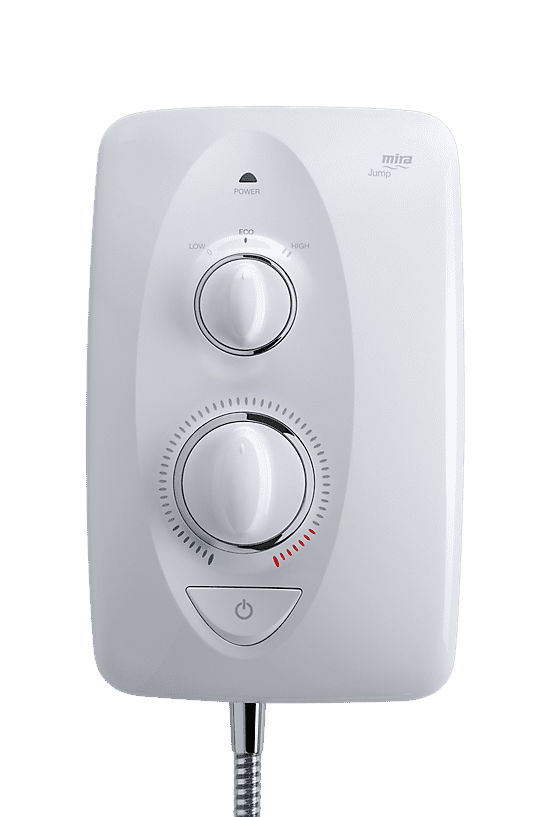 Shop Mira Jump Range
Get all the fantastic features without the dual heads with the Mira Jump.