Learn how Mira technology works and operates and why these our important when it comes to choosing your shower. Whether it's replacing an old shower or starting from scratch. We aim to breakdown the most innovative Mira features available.
Mira Technology Features
Mira HydroGlo Technology™
Mira HyrdoGlo technology™ is engineered to reach perfect temperature settings before you even step foot into the shower – no more cold or unpredictable showers. Rest assured your shower will be at the desired temperature the moment you step in.
Self-Powered, built-in technology illuminates the controls and tells you know when your shower is ready.
Available in the Mira Opero and Evoco range, which comes in three colours – Matt Black, Brushed Nickel and Chrome. The sleek and modern finish of the Mira Opero and Evoco give you the technology at your finger tips and exquisite design for your bathroom.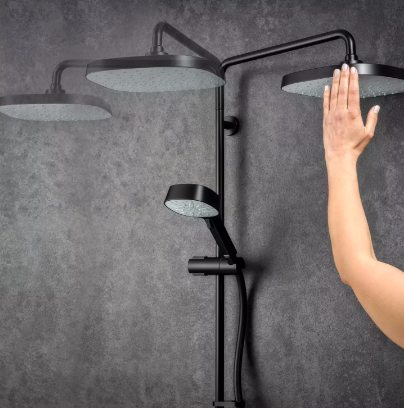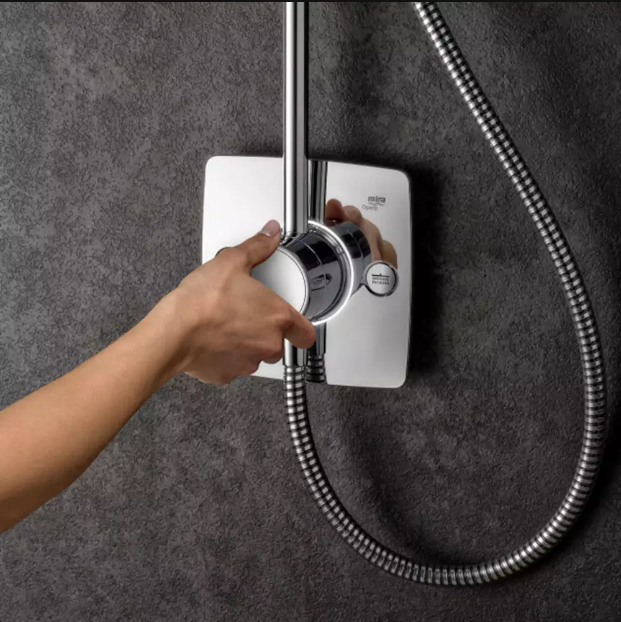 Mira MagniFlo Technology™
Designed to do one thing – bring 3x the flow of a standard UK mixer shower. Most UK households are known for low pressure systems with showers merely reaching 0.1 bar. If you're tired of a dribble of water and want more power. Mira MagniFlo™ ensures both the overhead and handset on Mira Dual will obtain a strong flow simultaneously.
How does it work? It optimises the internal valve waterways, enabling Mira mixer showers better coverage and spray force.
With Mira MagniFlo™ technology say goodbye to low pressure, enjoy the ultimate shower intensity and flow. Feel refreshed and revitalised after every shower. Available in most Mira mixer showers.
Mira MagniFlo™ technology has made Mira mixer showers the most powerful mixer showers on the market.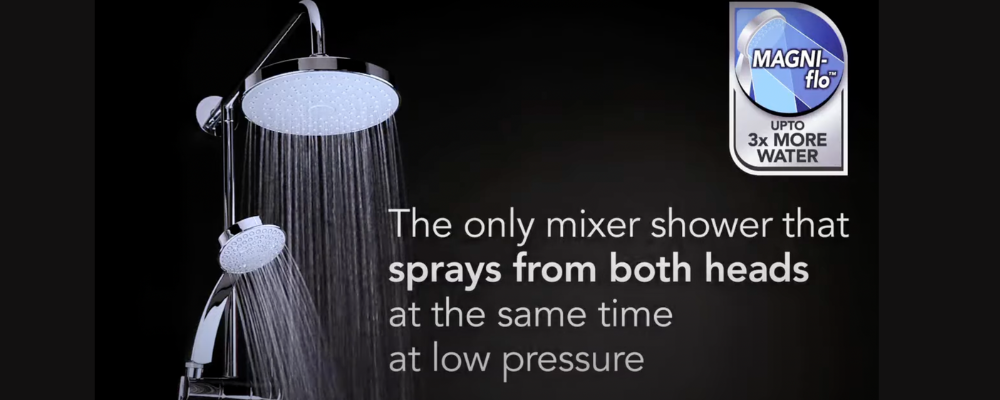 Mira Clearscale Technology™
Designed to help defeat limescale build-up. Mira Clearscale™ technology works by lengthening the heating elements as well as widening the gaps between the coils. The heating tank then runs at a consistent temperature throughout, reducing 'hot spots' and the build-up of limescale.
To help prevent the issues that occur with limescale, a delayed shutdown, which flushes hot water from the shower after use will keep your electric shower in great condition. (Only available in certain Mira electric showers.)
How can you detect Limescale?
It can be difficult to determine if you have a faulty system or if it is limescale and this can be dependent on the water in your area. Limescale is most common if you live in a hard water area or if you find a chalky substance around your shower.
"Unless you are a professional, it is difficult to be able to look inside your own shower; therefore you might be unaware of limescale build-up in your shower until its performance is impaired as a result.

We are dedicated to solving the issue, and we are permanently undertaking research to explore, monitor and test the growth of it so that it can be better understood.

First, we complete accelerated life testing on our units at a business called Hydramec who are located in a hard water area of Norfolk. Once this is completed, we then send the tests to Cranfield University who then assess the output."

(Mira, 2022)
You can check for limescale if you find:
Failure of heating elements
Poor temperature control
Taps or hard surfaces covered in a white layer
Clothes detergents/soap become less effective
Products become less energy-efficient
Mira Airboost Technology™
Mira's secret weapon, the Airboost™ technology, is designed to optimise the shower experience and make Mira Electric showers the best on the market. so how does it work?
Mira Airboost™ adds an air induction into the water stream, enhancing performance through the speed of water coming through the shower-head. At a touch of a button, it increases the flow of water by up to 30% giving the feeling of more water without actually using any extra water at all.
The Mira Sport Max range features this flow boosting technology and is available in 9.0kW or 10.8kW.
Mira Cool Shield™
Mira mixer showers feature CoolShield™ technology which prevents the valve from getting hot during a shower. Reducing the risk of injury for all members of your household.
We hope this helps breakdown some of Mira's most popular features and what to look for when it comes to your preferences and what you would like from your shower.
For more information contact us at [email protected] and +44 028 9044 8861.
To learn more about Mira Technology visit https://www.mirashowers.co.uk/