We have seen bathroom trends come and go! but this is 11 reasons why Black is here to stay. Whether you are planning a full bathroom makeover or wanting to add subtle accents we highlight the top tips on getting the black bathroom trend right for you.
11 Black Bathroom Trends
Tip #1: Black and Gold
For a more decadent and luxurious take on this trend, try adding gold. We're talking gold mirrors, gold hardware, gold lighting fixtures. Gold brings an element of luxury and can be as versatile as you want depending on your design preference. Take for instance these three examples:
Tip #2: Black and White Monochromatic Bathroom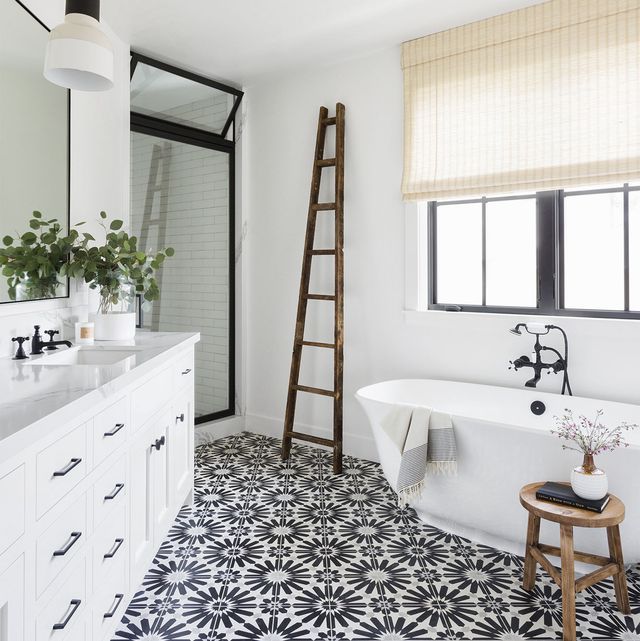 Not just a favourite of ours but a very popular choice for it's classic and timeless look. The monochromatic bathroom ticks all the boxes and is a simple way of adding black without going to the extremes. Pair a white subway tile on the wall with a black and white patterned floor tile for a modern and sophisticated design.
Tip #3: Tiles
Tiles, tiles, tiles! Not only are they easy to clean and water-resistant. Tiles come in all shapes and sizes and can be used in a million different ways. Take these black geometric tiles pictured below with their sleek glossy finish and seamless waterfall effect they create the most polished and contemporary looking bathroom.
Tiles will out-stand the test of time and have very low upkeep, black tiles even more so – use them with a dark grout and they will look cleaner and fresher for longer.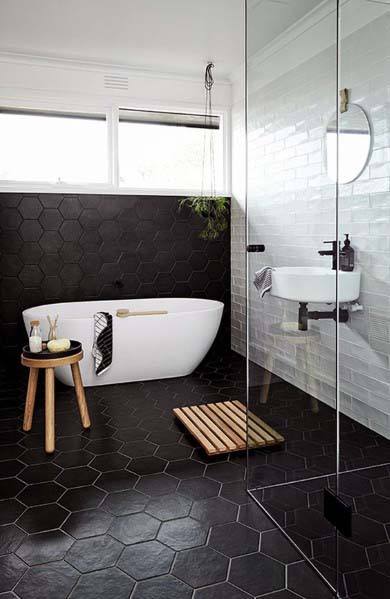 Tip #4: Paint it Black
If you're not ready for a full black bathroom suite or committing to laying down tiles and grouting and so fourth. Try painting your walls black! Daunting? – Very. Worth it? Absolutely! We've seen the half wall trend circulating online for a few years and it can be an excellent way to test the waters. However if thats still not enough, try painting an accent wall to contrast the rest of your bathroom. You still can achieve that dramatic effect and make a statement.
Tip #5: Add Pattern and Print
Black can be as subtle or as bold and brash as you like, there really is no right or wrong. If you long for a statement bathroom, black is perfect. Create an extravagant and unique environment by leaning into the drama. Have fun with contrasting patterns, as pictured in these incredible bathrooms below: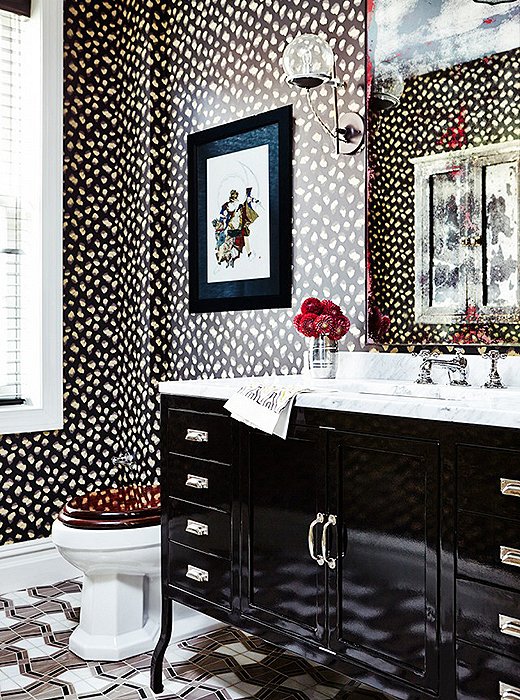 Tip #6: Black accents; Taps, Mirrors, Showers like the Mira Evoco
Black bathrooms don't always have to mean black walls, black floors, the whole room! It can simply be adding black accents, changing your taps and shower head, adding in a black contrasting mirror.
Black will look clean, polished and sleek in any bathroom no matter the style you choose. Adding in smaller amounts of black accents can transform your old bathroom and is a great way of refreshing what you already have, without having to do a complete renovation – which is great for the wallet aswell!
Tip #7: Matt Black
There is black paint and then there is matt black paint! It's ultra modern, sleek and packs a whole mood! If you want to wow guests or even be taken aback every-time you walk into the room. Matt black is for you. Matt black walls, radiators, metals, mirrors, taps and plug outlets just to name a few ways of adding the drama to your bathroom. When decorating in black it's all in the detail. Like this example below:
(Take a look at our matt black Mira Opero and Mira Evoco – the perfect addition to achieve this trend.)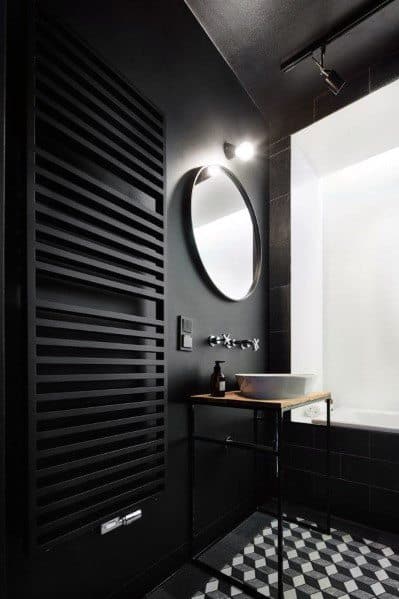 Tip #8: Industrial
Going industrial with your design choices will bring in warmth, character and charm. The best way to achieve the perfect industrial-styled bathroom is to make the most of the space you have. With this style it's ok to lean into imperfection whether that is slightly uneven flooring, exposed piping or chipped paint. Industrial design can be very forgiving and will create a relaxed and casual space.
Bring in those elements of warmth with natural wood tones and soft yellow lighting that will perfectly compliment black fixtures and fittings. Like this example below: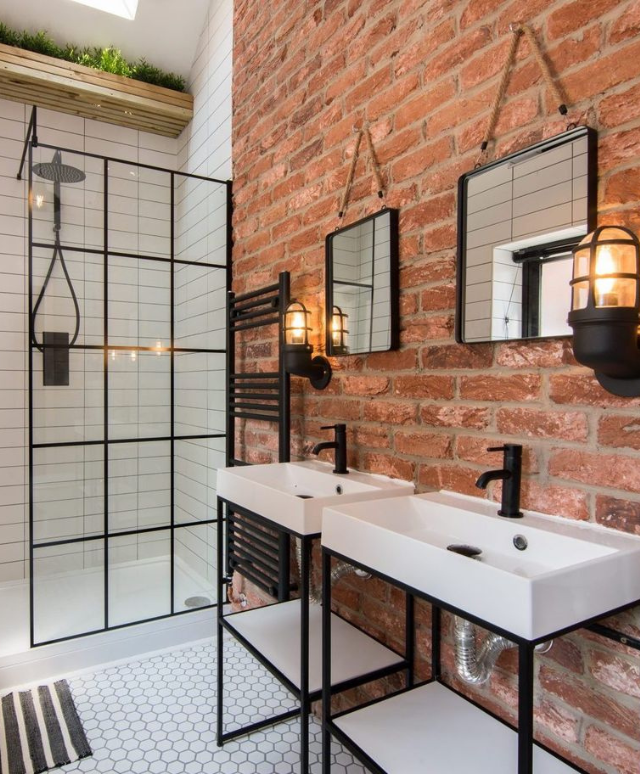 Tip #9: Add Greenery to you Bathroom.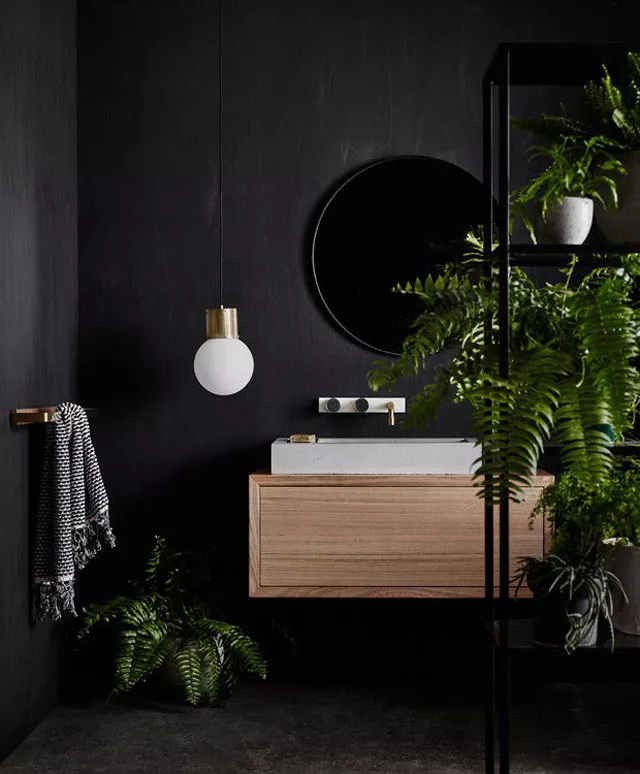 Want your bathroom to feel like a tranquil oasis or what about a tropical paradise? Black and green just so happen to be a fantastic colour combination – contrary to popular belief. Just look at this bathroom as a perfect example. Plants will add an element of texture and softness, and a nice contrast to the dark tones in your paint or tiles.
Plants in any room can open up the space and create a breathable and relaxing place to be. (You certainly won't forget to water your plants when dipping in and out of the bath or shower.)
Tip #10: Make the Space Feel Bigger – Mirrors and Lighting
"Its all about the lighting" – some will say. In this case to achieve the perfect black bathroom we would agree!
If you have limited space to work with, mirrors can go along way in making your bathroom feel bigger and brighter as they reflect light back into the space. This is even more necessary when you're adding darker colours to a more compact space. Don't let this put you off – there is lot of ways of adding dark colours without it feeling cramped – mirrors is one of many great ways to do this, in combination with plenty of lighting you can have the perfect moody and dramatic black bathroom of your dreams.
Tip #11: Commit!
Lastly, don't be afraid to give the black bathroom trend a try – there is many ways it can be done and we hope some of the above tips and ideas will spark some inspiration as to how it can be achieved. Once you have the look of your desired bathroom down the only thing missing is the perfect, luxurious shower to go with it. We just might happen to have few in mind….
Why not take a look at some of our beautiful matt black Mira showers, we know you will love:
(All images are tagged to their original source)