When it comes to making the most of your space the bathroom can be one of the trickiest places to start. It's a rooms that needs to be multi-functional, acting as a hub for the whole family during the 'busy morning rush' transforming into a space you want to relax, unwind and escape for a few hours in the bath.
If you're working with limited space, it can easily turn into bathroom pandemonium and make your space look even smaller. So how do we strike a balance between function and flair? We have gone through our tried and tested solutions to assure you these will work as the ultimate smart bathroom storage solutions.
Top 10 Small Bathroom Storage Solutions:
#1 Under Sink Storage
There is no easier and simpler way than making use of the dead-space below your sink. Especially when working within compact spaces. Now, with so many colours and finishes to choose from you can add plenty of personality to your bathroom.
#2 Shelving
What might seem extremely obvious, it's surprising how under-utilised shelving is in small bathrooms with many choosing to avoid because shelving can easily grow to gather junk and clutter. However, this does not need to be the case and there is many ways to designate open shelving for a specific purpose. Take a look at some of these examples each with their own unique take on open shelving and styling.
#3 Medicine Cabinet
Contrary to popular belief medicine cabinets have come along way and are a very useful storage solution. No longer the eye-sore they once where. Available with back lighting, touch button control, slider doors, a range of finishes which adds a nice element of luxury while also being functional.
#4 In-Shower Shelving
There is many ways you can add in-shower storage that vary in cost, the best and most affordable is adhesive stick on shelving or our favourite floor to ceiling standalone shelving which can fit into the corner of your shower or bath fixed through a tension rod. Perfect for holding shower products and daily use items.
#5 Baskets and Boxes
Using baskets and boxes in your space not only acts as a decorative feature but can store a multitude of items to have it safely tidied away. Available in a range of sizes to fit any space, like the following options:
#6 Back of Door Hooks
A clever and cost-effective solution for hanging towels, robes and much more. Easily adhere hooks to the back of the door or measure the depth of your door for door hooks which can hold heavier items. Getting items off the floor and utilising wall space will make your bathroom appear bigger and easier to move around. Its a great solution if you have limited places to store your towels and other toiletries.
#7 Group Items Together
To get the most out of your cupboard space, group items together. Containers for categorising products or smaller items will keep everything in one place, easy to reach and maximise the storage space you have. Have reach for categories such as skincare, makeup, toiletries etc.
#8 Built-in Cabinets
We have talked about medicine cabinets and under sink solutions to keep things out of sight but if you have more room in your budget and are willing to sacrifice some space. Built-in storage is an effective way of keeping everything organised and in one place. You can get creative with the layout and how your cabinets will work best in terms of size. You will have more control and can designate space for specific items. This method can set you back cost-wise but if you're looking a more permanent solution this is your best options.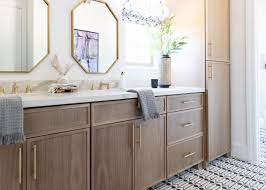 #9 Recess Shelving
Another permanant solution that makes quite the statement. It does require more time and construction but recess shelving is a popular way to make the most of your small space. Not to mention, incredibly sleek and creative in design.
#10 Get Creative with Standalone Shelving
If you can't drill into the walls or just don't have the space for wall cabinetry. Standalone shelving serves perfectly as an affordable and flexible alternative. Get narrow floor to ceiling cabinets that can be placed into tight spaces. A choice between open or closed storage – allows you to customise it to your preference. There is lots of affordable options out there for all types of bathrooms.
Bathrooms come in all shapes and sizes but guaranteed there will be an abundance of solutions to choose from. We hope the above solutions are useful and will transform your bathroom into an organised oasis. For more on bathroom design ideas or tips follow our blog here or you can find us on Pinterest where we share all our bathroom inspiration.

References:
https://www.goodhousekeeping.com/home/organizing/g25922638/bathroom-shelf-ideas/
https://www.bhg.com/bathroom/decorating/how-to-decorate-bathroom-shelves/
https://www.goodhousekeeping.com/home/organizing/g25922638/bathroom-shelf-ideas/
nytimes.com/2020/07/13/realestate/shopping-for-medicine-cabinets.html
luckyandi.co/bathroom-decor-updates
https://hgtv.co.uk/design/rooms/bathrooms/guide-to-selecting-bathroom-cabinets