We're back for another round of most insta-worthy bathrooms! Previously we broke down the most instagrammable restaurant bathrooms scattered throughout the UK which you can read here. Today, however we want to take a look at some draw-dropping bathrooms across UK and Ireland for some added inspiration.
Top 5 Instagram Bathrooms starting off with: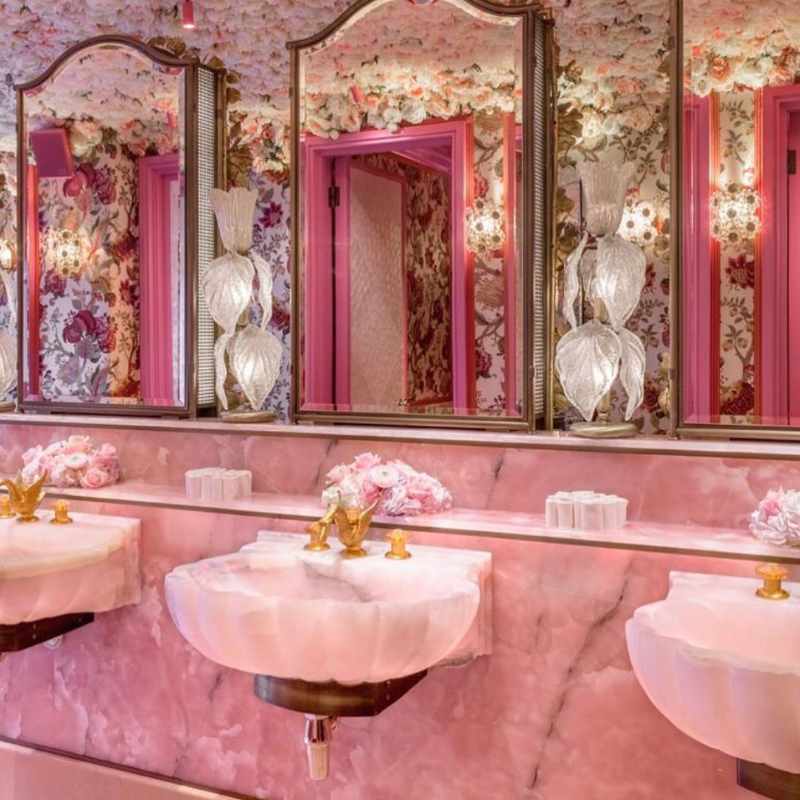 #1 Annabel's, London
A floor-to-ceiling pink powder room located in Berkely Square, London. A private members only club has you stepping into a pink paradise with pink marble tile, hand-blown venetian glass light fittings and silk flowers. Seashell shaped sinks and gold swan taps. You would never want to leave.
Trip Advisor Review: The bathrooms take the prize though – curiously decorated and a complete rendition of The Teddy Bears' Picnic!
#2 The Old Piggery at Windout Farm, Devon
For something more stripped back to basics. The Old Piggery takes bathing to a new level Enjoy soaking in an outdoor tub amongst the panoramic views of the countryside. Freestanding, victorian style bathtubs with industrial taps mixes design elements to achieve a luxurious experience all the while embracing the good outdoors.
Canopy and Stars Review: The bathtubs and the view were the main reason for booking.
#3 Bar 1661, Dublin
While Bar 1661 maybe be famous for award-winning cocktails. The bathroom is what we gush over. Located in D07, Bar 1661 packs a host of bathroom inspiration. The abstract tiling, the mood lighting, the wall panelling with so many unique features you might not want to leave.
TripAdvisor Review: All in all, the decor (nicest bathrooms in Dublin).
#4 Park Chinois, London
Park Chinois in London is known for it's opulence and fine dining but it doesn't stop there. Even their art deco inspired bathrooms reach new heights of luxury and elegance. Wash your hands under gilded gold swan-shaped taps, jade countertops, candlelight. Every detail will leave you in awe.
TripAdvisor Review: "Bathrooms just spectacular..look like pieces of art."
#5 Bellinter House, Co. Meath
This beautiful bathroom in County Meath is minimal in design, with one show-stopping shower. In contrast to the dark blue walls and traditional basin and taps. The shower is like your very own disco-ball. How could you resist snapping a pic for the gram in this bathroom.
Summary:
That sums up our 5 most instagrammable bathrooms across the UK and Ireland. We hope it has given you some bathroom inspiration. What do you think of these extravagant bathrooms? If you have any other bathroom ideas or inspiration photos make sure to share them with us.
To shop Mira showers and accessories visit showersdirect.com
---
Links:
https://www.instagram.com/annabelsmayfair/?utm_source=ig_embed&ig_rid=5ae0db50-4264-421f-b2b8-8c8f31112f76
https://www.idealhome.co.uk/news/worlds-most-instagrammable-bathrooms-227808
https://lovindublin.com/best-of/the-eight-most-stunning-bathrooms-in-dublin
https://www.vogue.co.uk/gallery/the-most-instagrammable-bathrooms-in-london
https://www.image.ie/living/ideas-to-steal-from-your-favourite-hotel-bathrooms-155058